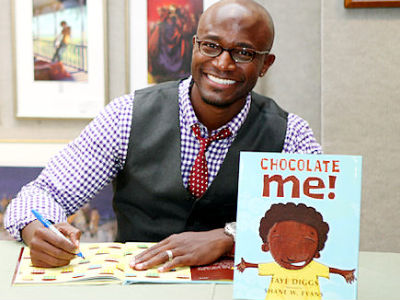 Courtesy of Jenee Desmond-Harris, The Root
We're guessing that after 10 years of fame in Hollywood and on Broadway, Taye Diggs feels pretty good about the way he looks these days. But that wasn't always the case. He says he was uncomfortable in his own skin as a child, and it had a lot to do with being one of the few black children in his hometown of Rochester, N.Y.
"I lived in a neighborhood where nobody else looked like me," said Diggs. "My mother took me aside and basically told me to embrace my differences."
Now Diggs is sending the same message to other kids through his new book, Chocolate Me! It tells the story of a dark-skinned boy with curly hair who is made fun of because of his appearance. The message: Be comfortable in your own skin.
"I remembered being 5 years old and moving into this neighborhood where none of the kids looked like me and were very inquisitive," he told Parade magazine. "Questioning why I looked the way I looked and why my hair was the way it was. I remember feeling really awkward, like I didn't fit in."
Sadly, being the only black — or otherwise different — kid in town is no easier for many children now than it was when Diggs was growing up. Leonore Gonzalez, 40, said that she drove her 4-year-old, Kennedi, to a New York City reading of Chocolate Me all the way from their home in Pennsylvania.
"Last week my daughter came home, and she was unhappy with her complexion," Gonzalez told New York's Daily News. "When I saw this, I figured what a great opportunity to expose my daughter to the book. Maybe she can learn something from it."